02

03 04 05 15 16 19 20 21 22 23 24 25 26 27 28 31 32 33 34 Throughout Tanner's and my engagement, one of our biggest worries was where we would live over the summer. We planned on returning to EAC in the fall, but didn't want to stay during the summer because the job options were slim, and the friends to socialize with would be slimmer. We had some potential job openings in Mesa, but the cost of rent for three months was higher than it was worth.

And so, after a lot of discussion, we made the decision to move to Cottonwood for the summer with his parents, in order to work there, and save as much as we could so that when we returned to Thatcher, we would have some money saved up and we could begin our life as a married couple there.
About halfway through the summer, we decided to extend our stay in Cottonwood, because I had a job, and Tanner would have a job that would pay a little bit more than his current job was, and we decided to search for an apartment there. Our rationalization was that Thatcher didn't really have that many options for us, and we would have a tougher time finding jobs in a small town overrun by college students applying for the same jobs we were. Plus there was a small college here that we could attend, so there really was no reason to go back.
At first, it seemed like a solid plan. But then I began getting depressed. My whole life had been conveniently shuffled into a routine of waking up, staying home alone until it came time to go to work, driving the 30+ minutes to Sedona, working until 8:30 pm or later, and driving home in the dark to a husband who was exhausted from working all day. I would eat dinner quickly, and then we would collapse into bed, almost too tired to even speak to each other. Rinse and repeat.
I hate how accurate this is.
Now, I'm a very social person. Being with friends and family is what I live for! But I was hardly interacting with anyone aside from occasionally having some free time with my in laws or going on dates with Tanner. I had absolutely no friends here. It's not for lack of trying, however, I can assure you. But our ward is full of elderly people, and while I adore their spunk and kindness, I just don't think it's feasible to try to have a game night with a bunch of people 75+ years old. And my job doesn't really allow for bonding with my coworkers, as I stay in the front and seat people while the servers bustle around serving them. The closest friend I have is my manager, who sometimes comes to the front to talk to me.
Let me say that again:
The closest friend I have, outside the family I am currently living with, is. My. Manager.
The guy who is paying me to work for him. He's the person I consider my friend.
Does that seem sad to anybody else, or is that just me?
I'm absolutely not trying to say that I don't dearly love my family, nor do I want to spend less time with them, but friends are such an important part of life, too! There's no sense in denying that, and for the past three months, that's exactly what I've been doing to myself.
Lately, there has been a lot of talk about being introverted vs. being exroverted, introverted meaning a quieter person who is easily drained by social interaction. It doesn't mean that they never socialize, or hate having friends, it merely means that they don't rely on other people to keep them going. They are usually seen as quiet geniuses, choosing not to be with other people constantly because they would much rather read a book, or ponder the intricate workings of the universe.
Extroverts, however, are more social, and thrive on being involved with people and activities. This also does not mean they never want to be alone, but it does mean that socializing energizes and revitalizes them. Because of this, extroverts are often seen as flighty, or people who only care about attending their next party.
Case in point: when I looked up the word "introvert", really deep, thoughtful quotes popped up. When I searched for extrovert..... I got partying weirdos. There's a bit of misrepresentation here.
I am an extrovert. I love people! I love having friends, and getting out of the house makes me feel so good!
However, these past few months I haven't had much opportunity to do those things, because there's not really anyone my age here. Neither of us are enrolled in classes (something I continually kick myself for), so we're not meeting people that way. And on top of being in a ward that primarily houses the retired, we were recently called into nursery, so I see even less people there. I've tried time and again to convince myself that I'm just being selfish, and I should appreciate the blessing of being employed, and being married. After all, I'm married to my best friend! Why would I need or even want to be with anyone else now that I'm married? I'm just being stupid. It's a good thing that we both have jobs; I'm just depressed because we don't have a place of our own yet. Yes, that MUST be the case! Life will magically get better once we live in our own apartment, where we can continue working and going to a church full of older people that can't really attend a game night outside of their retirement community. And we'll eventually go to school! Maybe! But everything will get better once we have our own apartment.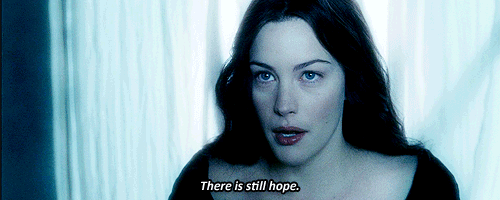 Friends, I fully convinced myself of this. I had decided that I would be content living in a place that is essentially a dead end for newlyweds because we had jobs. I was denying myself the luxury of having friends in favor of having a job.
Rather than realize how depressed I had gotten, I was bound and determined to merely exist, rather than live life to the fullest while we're still young.
I tend to forget just how very young I am- I'm not even 20 years old yet! Why on earth would I think it was a good idea to settle down in a town that has literally nothing to offer us, other than jobs? Don't get me wrong, having a job is so, so, important, and I'm not trying to dismiss that. But the thing is, we just have JOBS, not a CAREER. We can find a job pretty much anywhere! We still need to work towards a career, and we shouldn't be putting that on hold just because we have a job. I sure don't want to be a seating hostess the rest of my life- no way! So what am I doing sitting here, not pursuing my dreams, because I have a job that I hate?
Mesa has so many actual opportunities. We can find jobs, there are HUNDREDS of apartment complexes to choose from, and there are so many college programs there. Not to mention, friends! Actual friends!
I realize now that being an extrovert is nothing to be ashamed of. It's not anything I should try to cover up or suppress. I need to accept myself fully, and that means taking my life by the reins and doing something about my situation. Yes, moving will be hard, and yes, it'll be scary starting on square one again, but I am going to do it with my best friend by my side, in addition to my other friends, who will love and support us, and come to a game night where they don't have to bring an oxygen tank.
Just because you're married doesn't mean you have to give up some of your most basic needs and pretend you're okay. To quote from the movie Princess Diaries: Royal Engagement: "being married is about being yourself, only with someone else."
Oh, Helen Thermopolis. So weird, so wise.




I thought it was kind of a funny statement at first, but there is a lot of truth to it! I got married not because I wanted to hide away certain aspects of my personality in order to be a housewife; I got married because I found someone I can be 100% myself around. And being 100% real means acknowledging that sometimes it's okay to do something scary, because it will benefit your family, but it will also help you live your best life.




And I fully intend on living my best life. After all..... Happy wife, happy life, right? ;^)




I kid, I kid. But I'm excited to move to a place where we are going to have options, schooling, and friends! Oh, I am SO excited to have friends again. And I am so excited to be LIVING, not just existing.




Mesa, watch out. The Rhinehearts are coming for you!!




~Haeley

(ps- I'm every bit as disgusted as you are by my excessive use of stock photos. But I needed something to break up the monotony of my words. Bear with me here.)

Labels: growing up, H+T, happiness, life lessons, loving yourself

35 36 37 38